Eastern Ukraine has been under attack. People have been dying every day. Children have lost their parents; parents have lost their children. People have taken refuge in basements for weeks with no food, no heat and no communication. Dead bodies lie in the street. Evacuations are necessary, yet are becoming more and more difficult. The elderly are being left behind because they can't reach their rendezvous spots. As our friend in the Ukraine, Sergey Kosyak, said, the nation is in crisis:
"I have not seen this much grief and sorrow in the whole length of this war. Today we evacuated yet another group of refugees from the war zone in the occupied territory—over 150 people, mostly women. I stood and wept as they were exiting the bus, especially when they started carrying out the infants. In the building people were very quiet, deep in thought, no conversation could be heard, even children didn't cry. These people left their whole lives behind with very little hope of returning to their homes, still there, unharmed.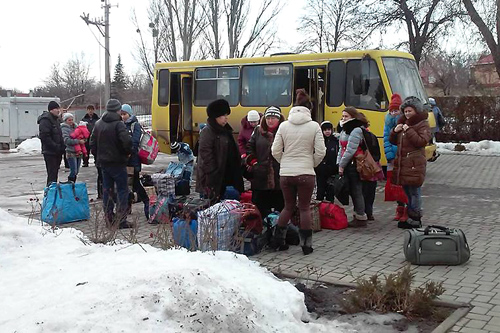 "When I was paying the drivers, they warned me that starting February 1, special passes were going to be required to clear the Ukrainian checkpoints. As it is, we've been able to get away without the passes for a long time now. To be precise, we were the only ones able to carry out mass evacuations in the area. I replied that we will keep trying and trust God for the rest. …
"While we were standing waiting for the church bus, one of the refugees got a phone call that a shell had hit her house, another lady got a message that her house had been hit as well, killing her relatives, a 27-year-old woman and her 11-month-old baby. Who knows, maybe they had also been turned away from one of the checkpoints, making them wait for 10 days to get their passes. … We are not able to provide enough living space to all the refugees — no place to put the beds, we are having to put them in the hallways. … This is the teaching we received from Jesus: to feed the hungry, and to be kind to a foreigner/refugee."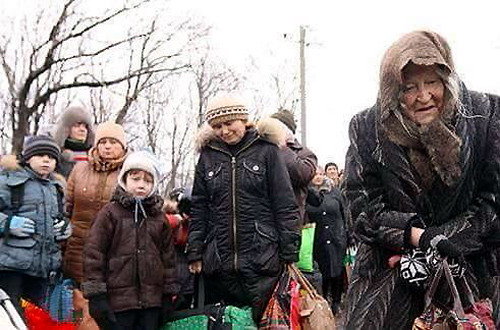 The situation has turned dire. Eastern Ukrainians are running from Russian aggression. They are fleeing a war zone. Reports are coming in that soldiers were going after Christians and Jews, demolishing Bible schools, churches, synagogues and orphanages. This nation desperately needs our prayers. And they need our help.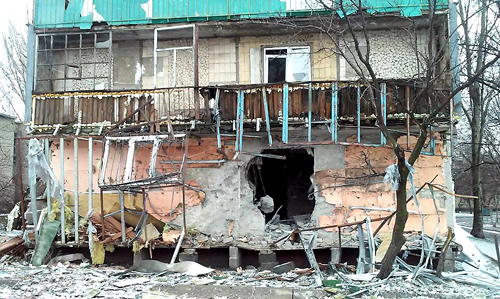 Our friend Svetlana Pokhodina has sent winter coats, blankets and warm clothes, but she needs our help with getting funds for evacuation and food to these hurting and desperate people. Boxes of relief items are being sent at the cost of $65/box.
What can you do today to reach these people? What can we do together to spread the love of Christ to these people who are fleeing their homes and their families because their nation is under attack? How much can you give, so that they can eat and find safety?
Can you give $100? Can you spare that amount, so that these refugees may be nourished along their plight? Any amount you give will make a difference.
Together we can bless these hurting people. Together, we can pour out Christ's love upon them as they leave behind their homes and escape this war zone. Pray with us and join with us by clicking here.