We recently sent 43,000 pounds of dried vegetable soup mix (enough to make nearly 1 million bowls of soup) to Mexico. We received word that the food has been a true blessing for those who have received it, not only meeting their immediate needs, but also making an eternal impact on their lives and relationships with Christ. The food was distributed by Jerusalem Evangelical Ministries (JEM) and was given to countless children, destitute families and individuals, homeless, orphans, widows, elderly and more.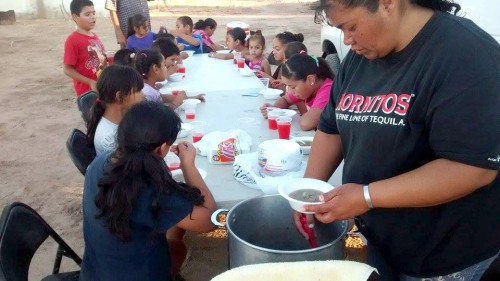 "This shipment of dried soup mix was very timely in providing healthy nourishment for many destitute people of all ages who suffer throughout most seasons of the year from conditions of hunger and malnutrition," said Lanny Anderson, JEM director of missions. "These conditions are especially prevalent in the rural villages and inner-city communities we minister to in Northern Mexico."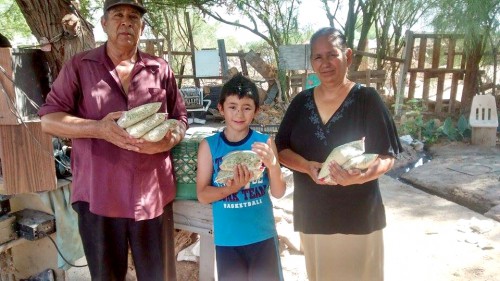 Lanny went on to tell the story of Laura, a woman who received a portion of the food, but more importantly, she came to know Christ through this mission:
In late April of this year, Laura lost her husband and an infant child in a tragic accident which was too gruesome to describe. Being left alone with a five-year-old son, Laura was encouraged by her parents to move to Cheke' where a small dirt floor dwelling was prepared for her to live in with the financial and volunteer assistance of the church. Up to this time, Laura had not known Christ in her life yet, and she was still suffering from the severe shock of losing her loved ones. She had many questions in her heart about why this tragedy had happened and was reluctant to seek guidance for her spiritual, and emotional needs. During the following weeks of May and June, Maria Porchas, our missions representative, made acquaintance with Laura and comforted her in the love of Christ. In her visits, Maria shared the message of the gospel and brought gifts of clothes and basic necessities for Laura and her son. These necessities included portions of the nutritious dried soup mix which was a blessing very appreciated by Laura. Through Maria's witness and these means, Laura is now embracing Jesus and is attending church fellowship meetings regularly.
There are many testimonies that relate to the food shipments we receive. We consider ourselves at JEM very privileged and thankful in having a part in the coordination of receiving and distributing the food donations. I must say again, as I have done in previous reports, that it is so wonderful to see the children and malnourished partake in this blessing. Like our brother James said in scripture, "Faith without Deeds is Dead." (James 2:26) May the Lord be Glorified!
Thank you to all who helped make this possible. To join with us in reaching others with much-needed nutrition and the love of Christ, donate today.