Last month we told you about the need to help God's chosen people in the Promised Land. Because the need is so great, we want to remind you of our efforts. As we gather to give thanks for our countless blessings and enjoy the holiday season, let us not forget God's chosen people who will not have the luxury to do so. Currently there are thousands fleeing to the Promised Land for safety and refuge.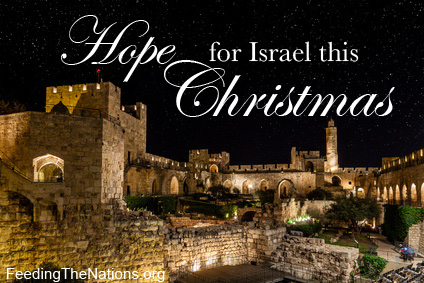 Since 1948, Israel has opened Her arms to all. Her doors are open to families of Jewish heritage from Europe, the United States, Asia, Africa and Russia. Most recently, a wave of over 50,000 war refugees from Eastern Ukraine are seeking asylum in Israel, leaving behind everything because of the aggression of Russia, its neighbor. With only the clothes on their backs, they have come to their Promised Land seeking safety and refuge.
They need our help!
In their flight they have left behind professions, finances, homes, documentation and all of the things that we take for granted, including the simple basic necessities of life! Resettling requires resources they do not have to obtain the necessary documents. Things like birth certificates, marriage licenses, validation of education and tangible proof of existence, they are without. The expense and effort to obtain these are costly and difficult.
We must help. And we will.
Feeding The Nations is helping in two ways: one to meet immediate needs and the other to meet long-term needs. To help with urgent needs, FTN will provide family boxes that contain practical items for nutrition and personal care. $50.00 will provide a family with desperately needed assistance for an entire month!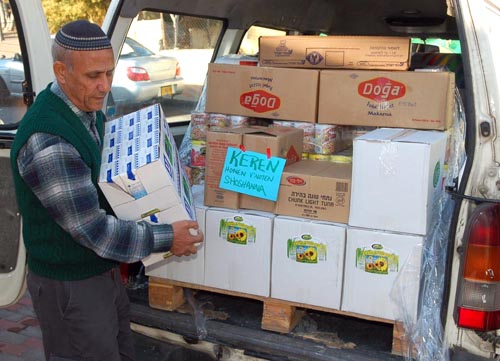 FTN is also helping by offering financial assistance to people who are seeking citizenship and asylum. Those who have entered Israel can apply for citizenship, but it takes time maneuvering bureaucratic hurdles and providing documentation. To purchase the documents necessary cost hundreds of dollars, an impossible sum for these refugees.
Please pray and consider giving a generous gift of hope to families in need. Sadly, history has a way of repeating itself. The world has witnessed a rise of anti-Semitism and unless we take a stand, and proactively speak out and help, it will continue. The unrelenting senseless acts of hatred are too awful to ignore. We must help those who are suffering this despicable persecution. Today, those who stand with Israel will not be nations, but individuals. In the last days, Her allies will be the children of God, His family from around the world who will rally to prayerfully support His people.
Will you partner with Feeding The Nations by compassionately giving a gift to demonstrate the love of God? Please join with us to alleviate this suffering. Pray for Israel, and as we give, please remember the words of Psalm 122, "Pray for the peace of Jerusalem. May all who love this city prosper."
To join with us in these efforts, simply click here and designate your gift for the Israel Project.
Yours for the Hungry,
Steve and Diane Sumrall