We've all heard the saying, "It takes a village to raise a child." But the truth is more like it takes a world. Just ask Maria and her four children. They are just one of the family's that our partner Iris Africa in Malawi has been helping.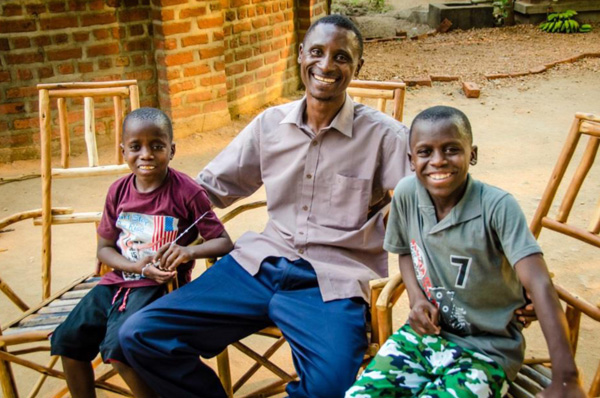 Maria is a single mother of four children, including Chifundo, 11 years old, and Chisomo, 13 years old. Iris Africa has supported this family with rice meals and medical support for several years. The children have often been sick and the family is short in stature. One day, the Iris Africa medical team took Dr. Neil Kennedy, a pediatric heart specialist who was visiting from Ireland, to meet the family. Dr. Kennedy identified a problem with the boys' hearts and after a scan, they were diagnosed with having a valve obstruction.
Unfortunately surgery for this condition isn't available in Malawi. The boys were placed on a list with the Malawi Ministry of Health to be sent out of country for the surgery. It took several years, during which time they had to get passports and find a guardian to travel with, but they eventually received a call that they would be leaving for India in a few days.
Our partners at Iris Africa got them ready to go, providing clothes, shoes, toothbrushes and a travel bag. One of the house dads, Hedson Msitu, prepared to travel with the boys. They discussed airplanes and hospitals, trying to prepare the boys for the journey ahead.
The boys experienced many firsts, including their first time out of Malawi, the first time on an airplane, the first time in a country where they don't speak the language, the first time in a big hospital, the first time eating rice and chicken every day. Dr. Kennedy happened to be on the same flight as the boys. He helped reassure them and blessed them.
In India, the boys underwent a balloon valvuloplasty where a catheter with a small, deflated balloon was threaded through a blood vessel to the opening of the heart where the balloon was then inflated to stretch the valve open and relieve the valve obstruction. The surgeries were successful. In just over three weeks of recovery time, they were on their way home to Malawi.
It took far more than just a village for these boys. Iris Africa is run by Canadians who live and work in Malawi. The food is provided by us (Americans) and Italians. Dr. Kennedy is an Irish doctor living and working in Malawi. Hedson is a Malawian father to the fatherless. Indian doctors performed the surgeries.
Thank you to all who support what we do because it truly does take a world to raise these children. If you would like to join with us in feeding more children like Chifundo and Chisomo, simply click the button below.