The wind was blowing 15 mph. Five to 6 foot waves were crashing on the beach. Clouds filled the skies, whipping by. Such were the conditions for Friday and Saturday of the Ironman 70.3 Steelhead triathlon. Thankfully, the race itself was on Sunday. Saturday night the wind calmed down, waves diminished to 1-2 feet and the skies cleared! What a relief as I walked into the transition area and set up my gear at 5:45 a.m.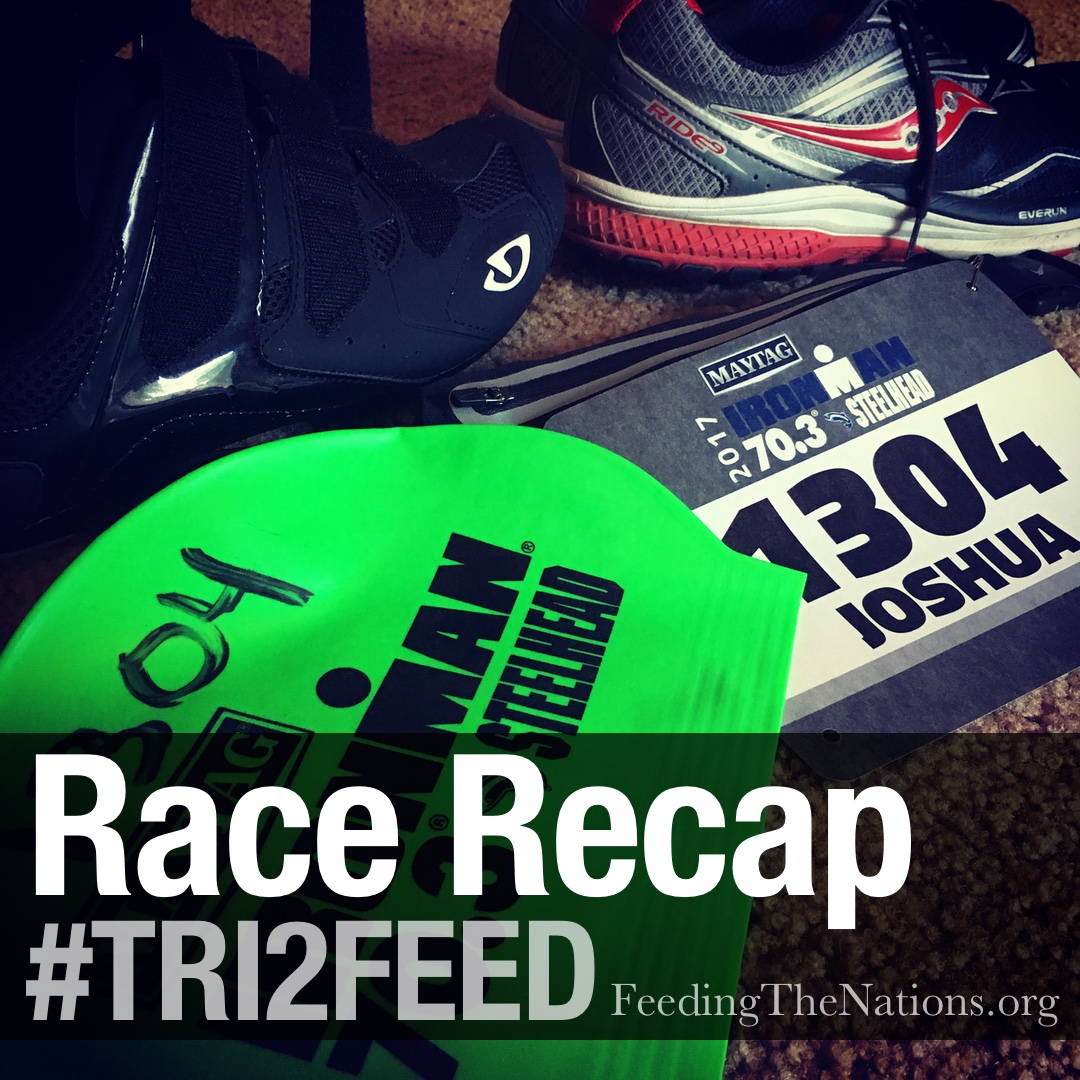 My bike was checked in and my numbers were written on my arm and leg the day before. Now I set up water bottles, sports drinks, energy blocks, energy Gu's, bananas, towels, bike shoes, running shoes, wetsuit, swim cap, swim goggles, jersey, helmet, sun glasses, sunscreen, athlete number, gear pouches and…I think that was it. All organized and ready to race!
We were kicked out of the transition area 15 minutes before the race start time of 7:00 a.m. Everyone gathered on the beach as the countdown to the swim start began. Music was bumping and the announcer was getting more animated as the time neared. Finally the race started and I…I…stood there for anther 50 minutes before I ran through the gate and into the water. Talk about a little anti-climactic. The races always start with the professionals being sent off first. Everyone else is sent off in a "rolling start." Athletes assemble in groups according to their expected time needed to complete the swim course.
A challenging 54 minutes after I entered Lake Michigan, I was running up the beach to the transition area. The swim was pretty good. I was hoping for a time under 60 minutes and it was! My swim coach prepared me very well and I couldn't have done it without her help. The only thing I wasn't used to was bumping into people while swimming. Swimming through hundreds of people is hard to simulate! My time in transition wasn't fast, but it was pretty smooth. I took time to make sure I didn't forget anything and was well hydrated.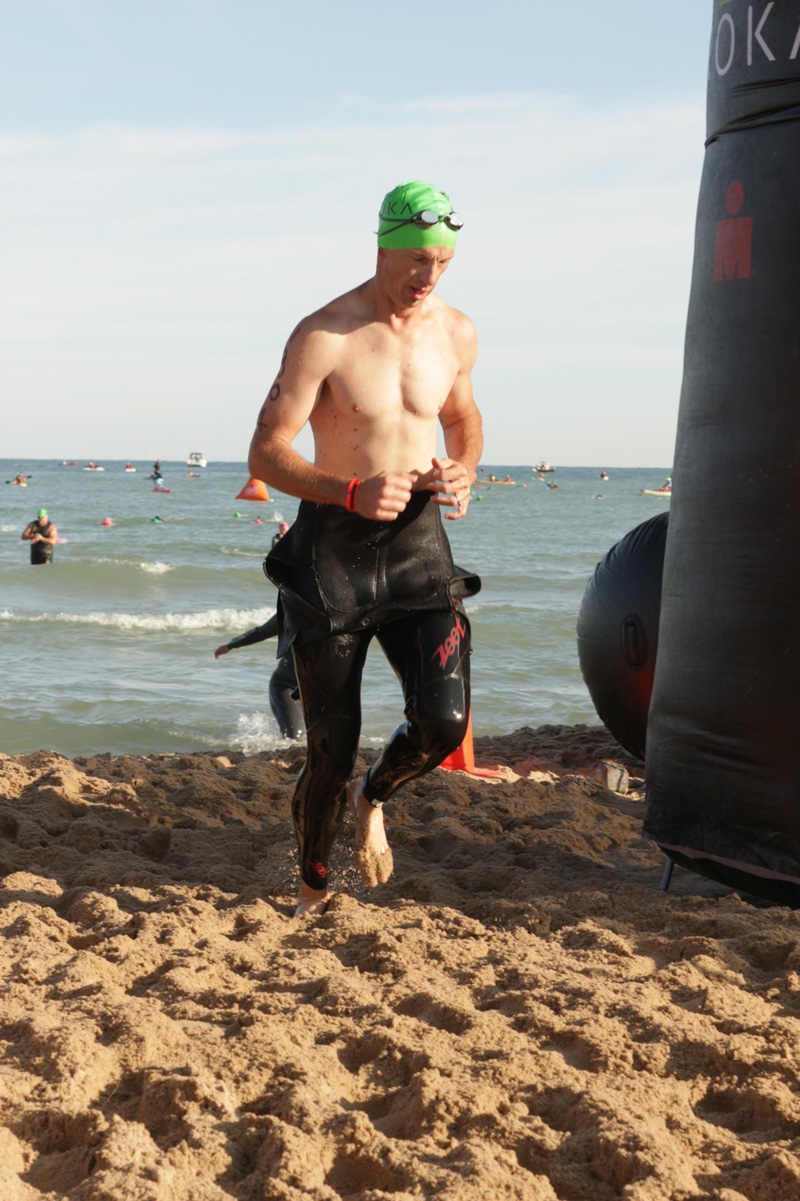 After walking my bike through the transition area, I hopped on and started mile 1 of 56. My race plan for my bike was pretty simple: eat an energy bar and banana at the start, energy blocks every 10 miles, an energy bar every 15 miles, and drink fluids every 5 miles or if I get thirsty. The course was basically pretty smooth with rolling hills. My bike worked great with no flats or break-downs. It was a wonderful donation by some great friends and was an amazing step up from my 1973 steel frame road bike! I finished the bike course in just over 3 hours. I felt great except for some slight pain at the side of my knee.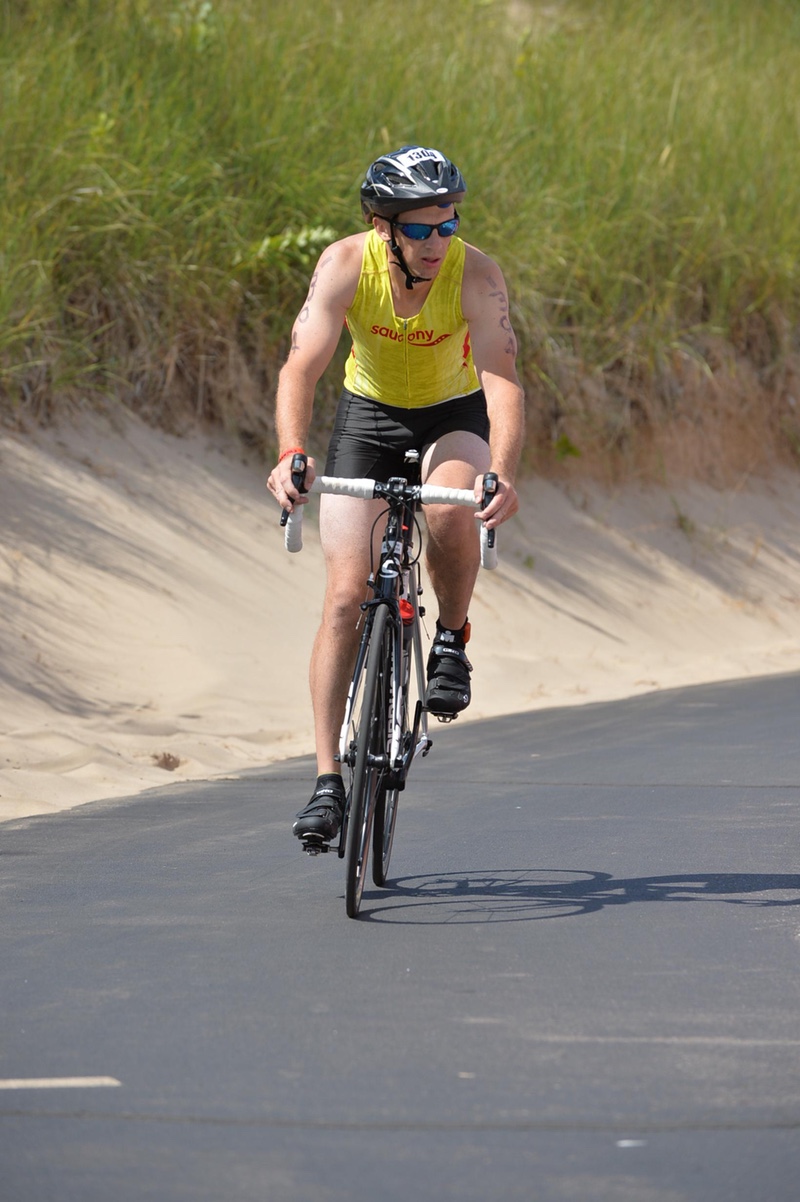 In transition 2, I hung my bike, changed my shoes, refueled, drank some cold sports drink, put on my race number and headed out for the final 13.1 miles of fun! The first few miles were rough as 3/4 mile in they started us off with a nice big hill which was not much fun. The run was definitely an experience. First my thighs were burning. Next my IT bands were in pain. Finally it was a realization that the pains were not getting any worse. After that I actually sped up my pace and ran pretty well for the event I was doing. At each aid station along the route, I would grab both water and Gatorade, both to drink and an extra water to dump on my head. Between aid stations, I would eat/slurp an energy Gu. My favorite part of the run was the mile marker 11. It meant I was still running and almost done!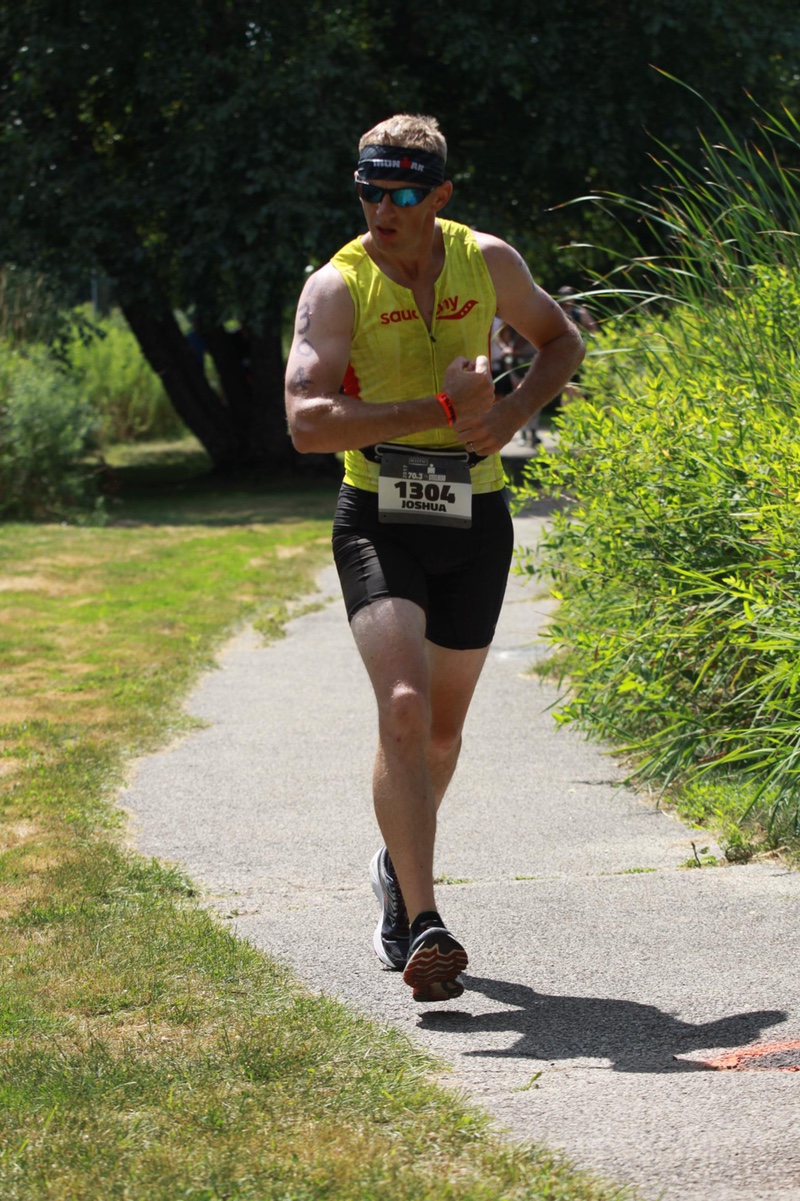 The last 1/2 mile of the race was a blur, but the finish was awesome. Fans, friends and family were waiting at the finish line cheering, waving and taking pictures. My name was announced and I crossed the finish line with a smile on my face! Weirdly enough I didn't want to stop. It actually felt better to keep walking around than it did to stand or sit.
After 6 hours 13 minutes and 39 seconds of going and going, I had accomplished 2 goals: completing an Ironman 70.3 triathlon and feeding hundreds of people for a year.
It has taken my efforts and your efforts together to do this. Your donations, encouragement and prayers have made this all possible. Together we raised over $9,000 with which we will be able to send up to 190,000 meals to people around the world. Amazing! That will feed almost 260 people two meals a day for an entire year.
And, so I say a huge "Thank you!" to everyone who helped make this event a success!
[Race photos by FinisherPix.]